Recruiting on Paraform just got even easier. 👀 Beyond thrilled to announce that we're officially partnering with Apollo.io!
Moving forward, if you're a recruiter on Paraform, you will get an exclusive 25% discount on Apollo's annual plan (in addition to their existing 20% annual discount). Through Apollo, you'll be able to find, connect, and hire the best candidates from Apollo's database of 250 million professionals using its end-to-end recruiting platform.
This unlocks powerful sourcing capabilities for recruiters for a fraction of the cost of other alternatives.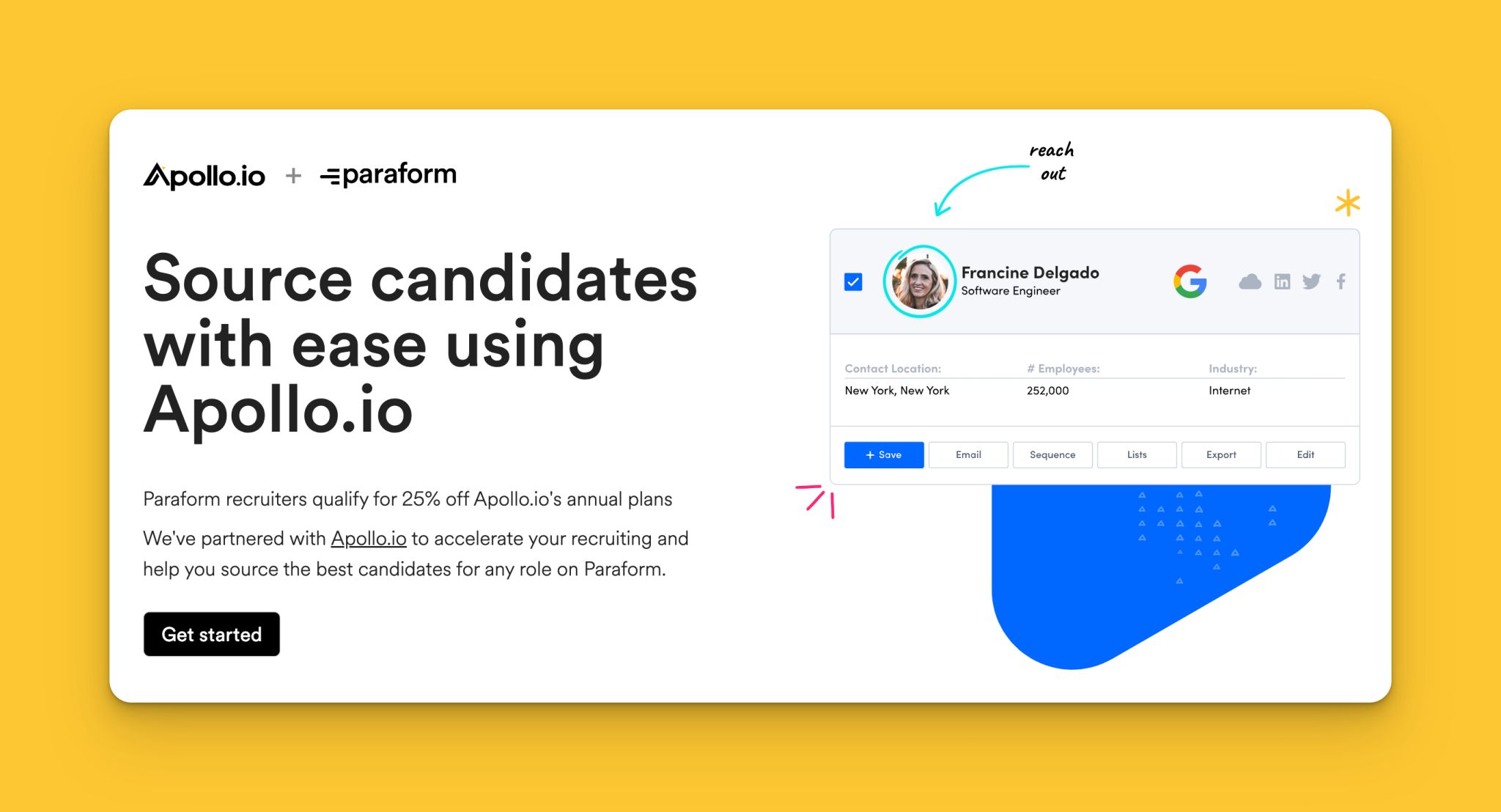 Popular recruiting tools like LinkedIn Recruiter have been historically effective, however, when it comes to modern recruiting for tech startups, we see clear data that LinkedIn InMail is not always the most effective because it's a very crowded method (some of our engineer friends get 10 LinkedIn InMails a day from technical recruiters!).
From helping 100+ tech startups with hiring, we've seen that using a combination of sourcing and outreach strategies such as personalized cold emails, LinkedIn connection requests, LinkedIn InMail and utilizing platforms like Twitter/Github is the most effective.
With Apollo's database search, custom filtering, scalable sequences, and chrome extension, you can streamline your recruiting process to do just that.
Jeff and I started Paraform by literally freelance recruiting for YC W22 & S22 batch companies ourselves, and I remember using Apollo to find & place amazing founding engineers (e.g. top 5% on Stack Overflow full stack folks). So this partnership means a lot to us.
Big thanks to Jennifer Rhima, Lyn Li Che, Jessica Casler, Karli Stone, and Joshua Garrison - it's been a blast so far and can't wait to continue to work together to make recruiting more accessible, easy, rewarding, and fun.
Read a more detailed guide on how to best use Apollo to source candidates on Paraform here.